D-slider1

slider2
slider-mob1

slider-mob2
Our Lawn Care
Services in Waco, Texas
Check out
Lawns We Maintain
About
254LAWNS
My name is Joe Maxwell, and my company, 254Lawns, LLC, takes great pride in providing excellent lawn maintenance services.

I had a lawn care business for many years, but sold much of that business a few years ago. In 2019 I acquired many of my old clients along with clients of a couple of other local lawn maintenance services. I'm now looking forward to growing this business and providing outstanding service to customers across the Waco area.

My wife and I grew up in China Spring and are raising our children there. I hold an associate's degree in landscape design and have been involved in the local landscape industry for 15 years. My approach to business is to take care of my customers' lawns as if they were my own.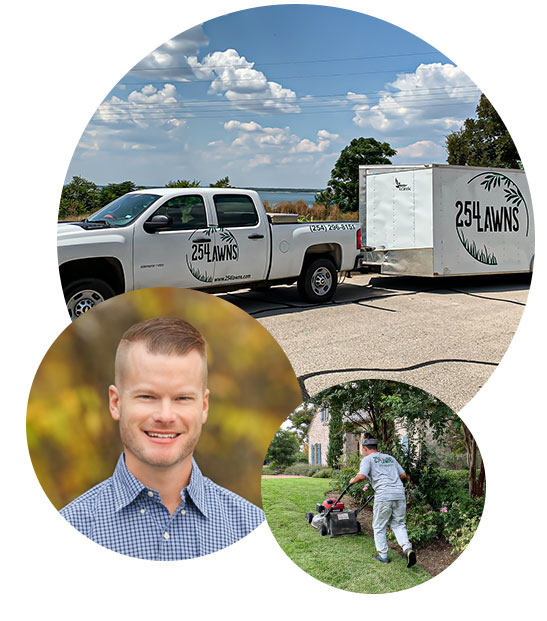 Check out
What Our Customers Are Saying
So far, very good.
The lawn service I had been using for 14 years decided to leave the business and recommended 254 Lawns. I was skeptical at first but decided to give them a try. I have not been disappointed. I had one concern and contacted Mr. Maxwell and it was taken care of. He and his crew are prompt and professional and I highly recommend them.
I appreciate the great service.
I inherited 254 when they took over for my long-time provider. I was a little concerned, but they've been absolutely fantastic. Would highly recommend them to anyone!
Smooth transition from my old lawn care company! Great communication to customers! Lawn looks great!
254 Lawns is great! I changed lawn companies in January of this year and I wish I had done it earlier. They are very reliable! They show up like clockwork every Tuesday unlike the last company. The employees take pride in their work and are friendly! Their pricing is reasonable and I feel like I'm getting my moneys worth. I will recommend 254 Lawns to my friends and neighbors.
Mr Matthews is knowledgeable, and honest, I don't write many reviews. If I have to call to ask a question the staff will respond in a timely manner Great Company
Joe and team do a great job for us.
254 Lawns took over the business when the service I had been using quit doing yards. Flawless transition. They are prompt and careful. When I have a question, Joe has an answer.
Very pleased with their service!
Contact Us
For Free Quotation
Physical Office
134 Dosher Lane Woodway TX 76712
Mailing Address
PO Box 5885 Waco TX 76708
Working Days: Mon. – Fri.
Working Hours: 9.00AM – 5.00PM
 
We Accept all Major Credit Cards